Faculty
The Department of African American Studies faculty membership consists of three categories—primary, joint, and affiliate—and these classifications provide a framework for articulating the faculty members' relationships, rights, and responsibilities to our intellectual community. Collectively, the faculty provide a vibrant intellectual community through which we are able to deliver the curriculum and meet the department's mission and learning objectives.
Primary faculty are members whose full tenure-lines reside within the Department of African American Studies, and whose primary teaching responsibilities are to the department. Primary faculty members have the opportunity to have a joint or affiliate faculty status with other units (departments, programs, schools) that align well with the mission and intellectual interests of those units.
Joint faculty are members of other units (departments, programs, schools) who also hold an appointment (either courtesy or shared) in the Department of African American Studies. Both shared and courtesy joint faculty typically teach courses within the department, and typically enjoy the governance privileges and responsibilities accorded to faculty whose primary appointment resides within the Department.
Affiliate faculty are members of other units (departments, programs, schools) whose research and/or teaching interests align well with the mission of the Department of African American Studies. Both tenure-line and non-tenure line faculty constitute our affiliate and are important members of our intellectual community, and their courses often are cross-listed to help the department deliver its curriculum.
---
Primary Faculty
LaMonda Horton-Stallings, Ph.D.
Chair and Professor of African American Studies
Dr. LaMonda Horton-Stallings received her Ph.D in English from Michigan State University. She is the author of The Afterlives of Kathleen Collins: A Black Woman Filmmaker's Search for New Life (Indiana UP, 2020), A Dirty South Manifesto: Sexual Resistance and Imagination in the New South (University of California Press, 2019); Funk the Erotic: Transaesthetics and Black Sexual Cultures (Univ. of Illinois Press, 2015); Mutha' is Half a Word!: Intersections of Folklore, Vernacular, Myth, and Queerness in Black Female Culture (Ohio State Univ. Press, 2007).
Funk the Erotic: Transaesthetics and Black Sexual Cultures received the Alan Bray Memorial Award from the MLA GL/Q Caucus, the 2016 Emily Toth Award for Best Single Work by One or More Authors in Women's Studies from the Popular Culture Studies Association/American Culture Association (PCA/ACA), and it was a 2016 Finalist for the 28th Annual Lambda Literary Awards for LGBTQ Studies.
She is co-editor and contributing author to Black Sexual Economies: Race and Sex in a Culture of Capital (2019) and Word Hustle: Critical Essays and Reflections on the Works of Donald Goines (2011). She has also published essays in African American Review, South-Atlantic Quarterly, GLQ, Signs: Journal of Women in Culture and Society, the Journal of Bisexuality, Black Renaissance/Renaissance Noire, Black Camera, Obsidian III, Revista Canaria de Estudios Ingleses, CR: The New Centennial Review, Western Journal of Black Studies, Feminist Formations, MELUS, and numerous edited collections.
---
Robert J. Patterson, Ph.D.
Professor of African American Studies
Dr. Robert J. Patterson is a professor of African American Studies and served as the inaugural chair of the Department of African American Studies at Georgetown University (2016-2019). He is the author of Destructive Desires: Rhythm and Blues Culture and the Politics of Racial Equality (Rutgers University Press, 2019) and Exodus Politics: Civil Rights and Leadership in African American Literature and Culture (UVA Press, 2013), co-editor of The Psychic Hold of Slavery: Legacies in American Expressive Culture (Rutgers University Press, 2016), and editor of the award-winning Black Cultural Production After Civil Rights (University of Illinois Press, 2019). Currently, he is working on a book titled Black Equity, Black Equality: Reparation and Black Communities and US Slave Narratives: A Very Short Introduction, which is under contract with Oxford University Press.
Dr. Patterson also has published articles on W.E.B. Dubois, Toni Morrison, African American Women's writing in the 19th and 20th centuries, civil rights, Tyler Perry's films, slavery's legacies, the film 12 Years a Slave, and rhythm and blues music and culture. Some of his work appears in South Atlantic Quarterly, Black Camera: An International Film Journal, Religion and Literature, The Journal of Feminist Studies in Religion, The Cambridge Companion to African American Women's Writing, The Cambridge Companion to Civil Rights Literature, and the Journal of Popular Music Studies. He co-guest edited a special edition of South Atlantic Quarterly, Black Literature, Black Leadership: New Boundaries, New Borders (112.2).
Dr. Patterson's teaching interests and courses mirror his research projects and he has taught a range of courses that examine black cultural production, racial equity, and the legacies of slavery.
Dr. Patterson has worked with governmental agencies, school systems, and other organizations to develop solutions that increase diversity, cultivate inclusion, and provide equity of access and outcomes. He currently serves as the Co-Chair of the College Board's Development Committee for its pilot course in African American Studies. He has also appeared on MSNBC, Fox Soul, and the British Broadcasting Channel, as well as additional media platforms, to discuss his expertise in slavery's legacies, reparations, and racial equity more broadly.
Dr. Patterson has collaborated with the Hartford Foundation for Public Giving to endow the Robert J. Patterson Scholarship Fund, which supports residents of Hartford, CT, who intend to pursue an undergraduate degree in African American Studies, social justice, the arts, or the humanities.
---
Dayo F. Gore, Ph.D.
Associate Professor of African American Studies
Dr. Dayo F. Gore is an associate professor of African American Studies at Georgetown University. Prior to joining the department, she was an Associate Professor in the Department of Ethnic Studies and the Critical Gender Studies program at the University of California, San Diego and Chair of the Department of Ethnic Studies and founding Director of the Black Studies Project at UCSD. Her research interests include black women's intellectual history; 20th-century U.S. political and cultural activism; African American and African Diasporic politics, and gender and sexuality studies. She earned a Ph.D. in History from New York University and has previously taught at the University of Massachusetts-Amherst. Dr. Gore is the author of Radicalism at the Crossroads: African American Women Activists in the Cold War which charts the political commitments and strategic leadership of a network of black women radicals operating within the U.S. left from the 1930s through the 1960s. She is also the editor (with Jeanne Theoharis and Komozi Woodard) of "Want to Start A Revolution?" Radical Women in the Black Freedom Struggle; co-editor with Sarah Haley and Prudence Cumberbatch of a special issue of Souls: A Critical Journal of Black Politics, Culture and Society, titled "Black Women Labor: Economics, Culture and Politics" (January–March 2016) and most recently contributed an article to the collection We Could Turn this Whole World Over: Black Women's Internationalism in the Twentieth Century from University of Illinois Press (2018). Her work has been supported by the Schomburg Center for Research in Black Culture, the Charles Warren Center for Studies in American History at Harvard University and the Tamiment Library and Robert Wagner Labor Archives at New York University. Dr. Gore is currently working on a book-length study of black women's transnational travels and activism in the long twentieth century, forthcoming from Princeton University Press as part of its America in the World series.
---
Zandria F. Robinson, Ph.D.
Associate Professor of African American Studies
Dr. Zandria F. Robinson is a writer and sociologist working at the intersections of race, gender, popular culture, and the U.S. South. A native Memphian and classically-trained violinist, Robinson earned the Bachelor of Arts in Literature and African American Studies and the Master of Arts in Sociology from the University of Memphis and the Doctor of Philosophy in Sociology from Northwestern University. Dr. Robinson's first book, This Ain't Chicago: Race, Class, and Regional Identity in the Post-Soul South (University of North Carolina Press, 2014) won the Eduardo Bonilla-Silva Outstanding Book Award from the Division of Racial and Ethnic Minorities of the Society for the Study of Social Problems. Her second monograph, Chocolate Cities: The Black Map of American Life (the University of California Press, 2018), co-authored with long-time collaborator Marcus Anthony Hunter (UCLA), won the 2018 CHOICE Award for Outstanding Academic Title and the Robert E. Park Book Award from the Community and Urban Sociology Section of the American Sociological Association. Her next monograph, Soul Power: Race, Place, and the Battle for the Memphis Sound (University of North Carolina Press) examines race, culture, and neighborhood change in South Memphis, former home of the renowned soul music factory Stax Records.
Dr. Robinson's teaching interests include Black feminist theory, Black popular culture, urban sociology, and Afro-futurism. She is the President-Elect of the Association of Black Sociologists, a member of the editorial board of Southern Cultures, and a contributing editor at Oxford American. Her work has appeared in Issues in Race and Society, The New Encyclopedia of Southern Culture, the Annual Review of Sociology (with Marcus Anthony Hunter), Contexts, Rolling Stone, Scalawag, Hyperallergic, Believer, Oxford American, and The New York Times.
---
Brienne A. Adams, Ph.D.
Assistant Professor of African American Studies
Dr. Brienne A. Adams earned her Ph.D. from the University of Maryland, College Park in American Studies. She holds certificates in Digital Studies in the Arts and Humanities and Women, Gender, and Sexuality Studies. She received her MA in African American Studies from the University of California, Los Angeles, and a BA in Literature Studies from Beloit College. Her research utilizes Black feminisms, queer, and affect theories as centering frameworks to study intimate world-building and meaning-making fans create from Black popular culture productions on social media platforms. Through studying the quotidian act of social media usage, her work intervenes in examining interiority in Black cultural productions and fandom expression as an example of Black digital knowledge production and public intimacy.
She was a 2019-2020 AADHum (African American History, Culture, and Digital Humanities) Scholar at the University of Maryland, College Park, an invited participant to the Understanding Digital Culture: Humanist Lens for Internet Research institute at the University of Florida, the Future of American Studies Institute at Dartmouth College, and Digital IDEAS: A Summer Institute for Anti-Racist Critical Digital Studies from the DISCO (Digital Inquiry, Speculation, Critique, and Optimism) Network at the University of Michigan. She has presented at ASA, SCMS, Fan Studies Network North America Conference, DC Queer Studies Conference, and moderated a panel at NWSA. Dr. Adams has a forthcoming publication titled "Whole Self to the World: Creating Affective Worlds and Black Digital Intimacy in the Fandom of The Misadventures of Awkward Black Girl and Insecure" in a special edition of Digital Humanities Quarterly on "Black Digital Humanities in the Rising Generation."
---
Rosemary Ndubuizu, Ph.D.
Assistant Professor of African American Studies
Dr. Rosemary Ndubuizu is an assistant professor of African American Studies at Georgetown University. An interdisciplinary scholar who studies how housing policies are shaped by race, gender, political economy, and ideology, her manuscript-in-progress historically and ethnographically traces how low-income black women have been affected by post-1970s changes in public and affordable housing policies and advocacy. Her research project also examines the contemporary landscape of affordable housing policy and politics to better understand why low-income black women remain vulnerable to eviction, displacement, and housing insecurity in cities like the District of Columbia. Additionally, her work presents the organizing challenges low-income black women tenant activists in D.C. face as they organize to combat the city's reduction and privatization of affordable housing.
Dr. Ndubuizu's teaching interests include social policy, post-civil rights black politics, the black radical tradition including black feminism, social movements, the political economy of non-profits, and women of color feminisms.
Originally from Inglewood, CA, Dr. Ndubuizu relocated to the Bay Area to complete her undergraduate studies at Stanford University. In 2006, she moved to D.C. and eventually became a community organizer with Organizing Neighborhood Equity DC, a D.C.-based community organization that organizes long-time Washingtonians of color to campaign for more local and federal investments in affordable housing and living-wage jobs. In 2017, she completed her graduate studies at Rutgers University in the Women's and Gender Studies Department.
---
Joint Faculty
Soyica Diggs Colbert, Ph.D.
Idol Family Professor
Professor, Departments of African American Studies and Performing Arts
Soyica Diggs Colbert is the Idol Family Professor of African American Studies and Performing Arts at Georgetown University. Colbert's award-winning book, Radical Vision,a "loving, lavishly detailed" (New York Times) portrait of Lorraine Hansberry's life, art, and political activism—one of O Magazine's best books of April 2021 is also described as "A devoted and deeply felt account of the development of an artist's mind," according to Dave Itzkoff, New York Times Book Review. In this acclaimed biography of Lorraine Hansberry, Colbert narrates a life at the intersection of art and politics, arguing that for Hansberry the theater operated as a rehearsal room for her political and intellectual work.
She has held fellowships from the National Endowment for the Humanities to support a residency at the Schomburg Center, Woodrow Wilson Foundation, Stanford University, Mellon Foundation, and the Robert W. Woodruff Library at Emory University. Colbert has also lectured nationally and internationally at universities, high schools, and middle schools as well as for civic and arts organizations. Colbert's writing has been featured in The New York Times, Washington Post, Public Books, Metrograph and American Theatre. She has been interviewed on NPR and commented for the New York Times, USA Today, CNN, and the Washington Post.
She is an Associate Director at the Shakespeare Theatre Company in Washington, D.C. In addition to Radical Vision, Colbert is the author of Bodies: Theory for Theatre Studies, Black Movements: Performance and Cultural Politics, and The African American Theatrical Body. Colbert co-edited Race and Performance After Repetition and The Psychic Hold of Slavery. She has also served as a Creative Content Producer for The Public Theatre's audio play, shadow/land. Her research interests span the 19th-21st centuries, from Harriet Tubman to Beyoncé, and from poetics to performance.
---
Anita Gonzalez, Ph.D.
Professor, Departments of African American Studies and Performing Arts
Dr. Anita Gonzalez is a professor of African American Studies and Performing Arts, and is co-founder and Research Professor of the Racial Justice Institute. She was recently Associate Dean for Faculty Affairs and a Professor of Theatre at the University of Michigan where she promoted interdisciplinary and intercultural performance initiatives. Her edited and authored books are Performance, Dance and Political Economy (Bloomsbury), Black Performance Theory (Duke), Afro-Mexico: Dancing Between Myth and Reality (U-Texas Press), and Jarocho's Soul (Rowan Littlefield). She is a co-series editor for the Dance in Dialogue series at Bloomsbury Press. Her essays about multicultural and international performance appear in several edited collections including Black Acting Methods (Luckett), The Community Performance Reader (Kuppers), Festive Devils (Riggio, Segura, and Vignola) and the Oxford Handbook of Dance and Theatre (George-Graves, 2015). She has published articles in the Radical History Review, Modern Drama, Performance Research International, and Dance Research Journal. She has completed three Senior Scholar Fulbright grants and has been a resident artist/scholar at Rockefeller's Bellagio Center in Italy, and the Warfield Center for African and African American Studies at the University of Texas. She was a Humanities Center Fellow at the University of Michigan during the 2017/18 academic year and is a recent recipient of the Shirley Verrett Award for outstanding teaching of performance.
Dr. Gonzalez extends the reach of her scholarship through public engagement. She created a massive open online course "Storytelling for Social Change" that has reached over 38,000 learners to date. A new open-access course, "Black Performance as Social Protest" is under development for the FutureLearn digital platform. Her interdisciplinary performance projects include projection mapping of The Snark (new window) and The Living Lakes (new window) in the Duderstadt Center, developing a performance installation and lecture series titled "Conjuring the Caribbean," leading a team to develop the interactive historical website 19thCenturyActs (new window), and founding Anishinaaabe Theatre Exchange (new window) in the Upper Peninsula of Michigan to engage Ojibwe communities in dialogue through theatrical performance. Gonzalez also directs, devises and writes theatrical works. Her innovative stagings of historical and cross-cultural experiences have appeared on PBS national television and at Lincoln Center Out-of-Doors, The Working Theatre, Puerto Rican Traveling Theatre, New York Live Arts, Tribeca Performing Arts Center, and other national and international venues. Her short libretto Courthouse Bells will be produced by Boston Opera Collaborative in 2021-22. Other musical writings include Zora on My Mind about Black women's empowerment and entrepreneurship and Ybor City the Musical (new window) about Cuban unionism and racial division in 1918. Gonzalez is a member of the National Theatre Conference, Lincoln Center Director's Lab, League of Professional Women in Theatre, the Players Club NYC, and the Dramatists Guild.
---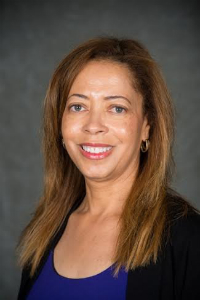 Angelyn Mitchell, Ph.D.
Associate Professor of English and African American Studies
Founding Director, African American Studies Program, 2003-2013
Dr. Angelyn Mitchell is an associate professor in the Departments of English and African American Studies. Dr. Mitchell's teaching and research interests are in African American literary and cultural studies; African American Studies; Black women writers; Black feminist theories; race and representation, race and politics, African American music, African American history, slavery in the US; the American South; gender and racial politics; and race in America.
Dr. Mitchell is a four-time recipient of the GU Black Student Alliance's Outstanding Faculty Award. She is also a recipient of the Georgetown University College of Arts & Sciences Dean's Award for Excellence in Teaching (2015). In 2017, Dr. Mitchell was named by Diverse: Issues in Higher Education one of 25 outstanding women leaders in higher education, making "a difference in the world by tackling some of higher education's toughest challenges and exhibiting extraordinary leadership skills." In 2020, Dr. Mitchell received the Distinguished Leader Award from the GU African American Alumni Advisory Board.
A leading scholar of Nobel laureate Toni Morrison's work, Dr. Mitchell has lectured nationally and internationally on Morrison's works and has conducted seminars for audiences ranging from high school teachers to international scholars on Morrison's works. She is a founding member and past officer of the Toni Morrison Society, and she currently serves as a member of the Toni Morrison Society's Board of Directors.
Dr. Mitchell edited Within the Circle: An Anthology of African American Literary Criticism from the Harlem Renaissance to the Present (Duke UP, 1994), the first anthology of twentieth-century African American literary and cultural criticism, presenting twentieth-century African American intellectual history. She is the author of The Freedom to Remember: Narrative, Slavery, & Gender in Contemporary Black Women's Fiction (Rutgers UP, 2002), a study of gender, memory and history in contemporary novels about US slavery by Black women that posits that remembering is foundational to the afterlives of slavery. She is the co-editor of the Cambridge Companion to African American Women's Writing (Cambridge UP, 2009), a collection of essays chronicling the literary history and traditions of Black women writers from the 18th century to the present. She is currently completing a book entitled "Toni Morrison: A Writerly Life" (Polity Press, forthcoming), and her next book project is "1963: A Racial Biography."
Dr. Mitchell founded Georgetown University's African American Studies Program in 2003 and served as its first director from 2003-2013. She is a member of several professional organizations, including the College Language Association, the Toni Morrison Society, the American Studies Association, and the Modern Language Association. She is available as a consultant for diversity training, inclusive teaching initiatives, and progressive curricular reforms, all areas of her expertise.
---
Melanie Y. White, Ph.D.
Assistant Professor of African American Studies and Women's Studies
Dr. Melanie Y. White is a Provost's Distinguished Faculty Fellow in the Department of African American Studies and the Women's and Gender Studies Program at Georgetown University. She holds a Ph.D. in Africana Studies from Brown University, an M.A. in African and African Diaspora Studies from the University of Texas at Austin, and a B.A. in Cultural Anthropology from the University of Pennsylvania. Her research and teaching interests include hemispheric Black feminist politics, Black diasporic women's art, and the histories, politics, and visual cultures of Black Latin America and the Caribbean.
Her first book project, What Dem Do to We No Have Name: Intimate Colonial Violence and Black Feminist Counter-Intimacies on the Mosquito Coast, traces a history of sexual and gender-based colonial violence against Black and Afro-Indigenous women and girls from what is today the Nicaraguan and Honduran Mosquitia. Linking this genealogy of racialized, gendered, and territorial dispossession with the centuries-long struggle for autonomy on the Mosquito Coast, Dr. White juxtaposes the history of intimate colonial violence in the region with the "counter-colonial intimacies" of Afro-Mosquitian women past and present. Specifically, she explores the historical record and contemporary artistic production to highlight Afro-Mosquitian women's embodied and creative practices of colonial refusal and intimate autonomy.
Her research has been supported by the Ford Foundation, the Andrew W. Mellon Foundation, the American Council for Learned Societies, and the Institute for Citizens and Scholars. Her work is published or forthcoming in Caribbean Quarterly, Latin American Music Review, The E3W Review of Books, and the edited volumes Critical Social Science Research on Black Women in the Americas and Black Feminisms Beyond Borders: Cultivating Knowledge, Solidarity, and Liberation. Dr. White has served as an instructor in the Departments of English and Africana Studies at Smith College, where she taught courses on Black diasporic women writers. Dr. White currently serves on the advisory committee of Recuerdos de Nicaragua, a digital humanities project dedicated to preserving the history and culture of the Afro-descendant and Indigenous communities of the Nicaraguan and Honduran Mosquitia.
---
Visiting Faculty Researcher 
Yvonne Captain is an Associate Professor of Latin American Film and Literature and International affairs at The George Washington University. She is an expert on the African Diaspora, and South-South relations, particularly between Latin America and Africa. She is working on a book tentatively titled "Naming and Resistance: 'African' Surnamed Families from Enslavement to the Present."